AUGUST 2022 EVERYDAY CARRY
The latest and greatest gear we're testing out in August.
We're back again with another edition of our continuing series, taking the opportunity to share our favorite new gear, bags and accessories with you each month! Missed the previous installment? You can check it out here, then come right back to keep reading.
In our pockets and bags this month, we're testing out two essentials — a lightweight buy-it-for-life pen and an impressively affordable folding knife — as well as one piece of survival gear that's well-designed but very much unlike anything else we've seen before.
So without further ado, here's what we're carrying in August:
Everyman Grafton Pen
The gear gurus over at Everyman have a whole range of EDC bags and accessories to choose from, but we're probably most excited about their Grafton Pens.
While each one of these pens comes in at around $40 — significantly more affordable than many EDC pens on the market today — Everyman isn't cutting any corners here. The body of each pen is made from 100% Anodized 6061 aluminum, giving a finely tuned balance of strength, stability, and lightweight performance.
The heavy duty bolt-on clip feels rock solid, and helps to give a good sense of balance and weight to the pen. We've been using these pens pretty much everyday for the last few weeks, and can attest to their comfort and ease of use in writing, drawing, sketching, and note taking. And while we haven't run a full ink cartridge out yet, the Grafton pens are easily refillable as well.
In short, this is an exceptionally affordable and satisfying pen for everyday carry that's made as a buy-it-for-life option. Highly recommended by the NutSac crew — and check out their limited edition colors while they're still available.
Bespoke Post Wren Knife
Even if you're already familiar with Bespoke Post, they're definitely worth taking a closer look at. Because while they offer a monthly subscription box that can be hit or miss, the membership discounts on their curated gear are pretty solid — and you'll get early access to new releases, like the Wren River Hawk Folding Knife.
Fair warning: Your author is a knife guy, collecting both pocket knives and kitchen knives. Nerdiness may ensue. So whenever I'm taking a look at a new knife, I try to compare it cost-wise to knives of a similar format. 
There's no shortage of folding knives, but I think that the Wren knife offers a pretty impressive combination of attributes for being offered at just $55. 
440A stainless steel is pretty run of the mill, but Bespoke Post is actually having it specially processed to hit a respectable 58 HRC. Combined with the knife's drop point blade and thick spine, that makes it a darned good chopper knife when you're out on a hike and want to start up a little fire.
That's all rounded out by G10 scales for better grip, a reliable liner lock, and a high-vis cord and thumb stud. Overall, it's a darned sight better than most folding knives you'll find at this price, and I won't be surprised if it stays a part of my knife rotation for months or years to come.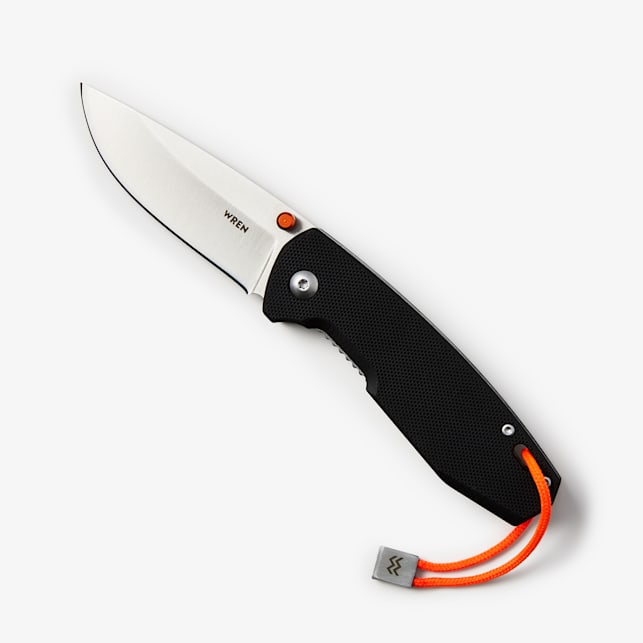 VSSL Camp Supplies
Our last piece of gear this month is one that we've actually been using for quite some time, but recently returned to our bags for quick camping and weekend trips. Matt's been using it since the holidays last year, and your author has tested his out for almost a year now.
The basic idea is this: You're not going to be carrying a VSSL setup around in your pockets, and probably not even in your urban EDC bag. For most of their product options, you're going to be using it for dedicated outdoors activities — and you can customize every little modular piece to get the exact setup you're looking for, from compasses and carabiners to flat caps and flashlights (and that's just the end caps!).
First aid tools, beeswax candles, wire saws, and even a collapsible shot glass are just the tip of the iceberg for what tins you can include inside of a VSSL setup, so it's really worth checking out the full range to see what suits you best. But even if you just pick up one of their Standard Camp Supplies, you're going to have an impressive range of outdoor tools and accessories stored inside of a waterproof container.
Does everybody need a VSSL? Probably not. But if you like getting outdoors, you should know the value of preparedness — and VSSL is like preparedness in a bottle.
How We're Carrying
And to wrap things up, we'd like to introduce you to the latest addition to the NutSac family of bags: Our Sling Bag. It's been months in the making, taking multiple rounds of testing and iteration to create a vertically-oriented bag that still has the same Molle functionality of our TacSacs.
That's all for this month, so subscribe to our newsletter if you want to see the newest and latest gear for September!