Satchel 15
$229
(The bag formerly known as Sac-Daddy)
$229
The Satchel 15 is a large everyday carry bag. It about the size of most messenger style bags. While you don't always need a big bag for just your everyday essentials, sometimes a little extra space is needed. If you are carrying a padfolio, notebook, or a laptop, having some additional room can come in handy.
The interior of this bag features two, 7" front pouches perfect for phone, wallet, hard drives, etc., in addition to a full-width back-zippered stash pocket.
Dimensions: 15″x10.5″x3.5″
Weight: 2.81 lbs/ 1.27 kg
Full-grain leather
Waxed-canvas (water resistant)
Metal hardware
Heavy-duty cotton strap
30-day money back guarantee
Lifetime guarantee
Our leather
We source our leather from a small tannery in New England. Our leather distributor has been around since 1897, and gained notoriety for making leathers for artificial limbs for wounded civil war soldiers.
waxed-canvas
Man, we love waxed canvas! Historic, durable, beautiful, and cooler than cool. Waxed canvas is made from cotton impregnated with wax. It's served time in both military and civilian life.
Customer Reviews
01/14/2020
John P.
United States
The only way to go!
Here is why this IS the best bag! 1. Materials/construction - super high quality, will no doubt last and be 'handed down'. 2. Very simple and it is non-ostentatious! This was the most important. 3. No 'bells & whistles' sleek, non-bulky, love all the color choices!!! Picked the tan as it matched other cool EDC stuff (Hitch and Timber) that I have. You can't go wrong with this. Worth every dollar! Skol, John Peskey Laurel, Montana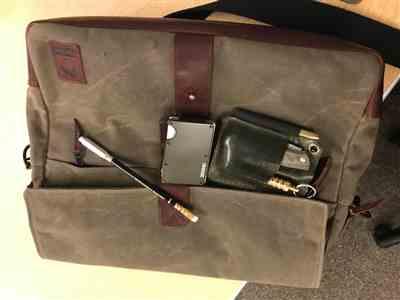 01/13/2020
Anonymous
United States
Great Bag
I've had the bag for just under a month and it hold everything I need on a daily bases.
01/11/2020
Alicia Y.
United States
Awesome
It has been great. I love the quality and the look of the bag. Added bonus that it was made in the U.S.A.!
01/06/2020
Mark
United States
Great bag!
Purchased for work, everything about this bag screams back at you why it's worth the cost. These are beautiful, built tough, and very highly quality materials. I packed this thing to the gills with a 15" laptop with second screen and all my accessories. I love the paper slot in the side, particularly with packing in travel docs and receipts on the go, nothing fell out. The leather feels so nice I went ahead and ordered the clipster Wallet as well, expecting similar quality. My only problem is now wanting to dump more $$$ on a man bag for personal use!
01/03/2020
Anonymous
United States
Awesome
This bag feels great. Very well made.