This Duffel is great for work or play. Take it on a short trip, to the job site, or to the gym. It's sturdy as hell and able to withstand rough, continued use. It comes with a number of organizational features including two, 3-pocket panels on the inside and a zippered compartment on each face of the exterior.
The bottom of the bag is reinforced with abrasion resistant waxed-twill. The shoulder strap comes with a leather pad. Made in the USA with a lifetime guarantee.
Dimensions: 18"x10"x9.5"
Weight: 3.0 lbs/ 1.36kg
Full-grain leather
Waxed-canvas (water resistant)
Abrasion-resistant waxed-twill
Cotton strap w/ leather pad
30-day money back guarantee
Lifetime guarantee
Our leather
We source our leather from a small tannery in New England. Our leather distributor has been around since 1897, and gained notoriety for making leathers for artificial limbs for wounded civil war soldiers.
waxed-canvas
Man, we love waxed canvas! Historic, durable, beautiful, and cooler than cool. Waxed canvas is made from cotton impregnated with wax. It's served time in both military and civilian life.
Customer Reviews
01/04/2020
Precious G.
United States
Your go-to bag
I purchased the Man-Bag ****** for my father and it was an excellent choice! The product screams rustic, elegance, and class. My father had been using a ziploc bag to hold all of his important items, but now he can carry everything with class! He was very happy to open the gift and is using it daily. He gets lots of compliments and they are well deserved as the bag is absolutely beautiful! I hope that the makers will consider a line of luggage. If so, you'll be my go-to place for him.
10/31/2019
Ramiro M.
United States
NutSac doesn't disappoint
The duffel was my second NutSac purchase, after having my SacDaddy for close to a year and really getting to experience how well it s held up! My Sac Daddy has carried all my work materials back and forth from the office, to meetings, and around town every day for about a year now. It looks as good if not better than new, so I did not hesitate purchasing the duffel. The duffel is the perfect size, I was worried it'd be too small but it fits everything I need in a nice compact package. Quality is there as always, and I appreciate the quick shipping!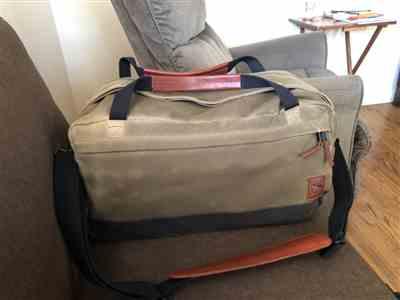 10/06/2019
John F.
United States
Great value
Bought this duffel for my son, he has been impressed with it and should last him for years. I'm sure with all of his travel, the duffel will have plenty of stories to tell. I can see more Nutsac items in our future.
09/27/2019
Anonymous
United States
Better than my already HIGH expectations
This bag is the single best piece of 'luggage' I've ever seen, let alone owned. Heavy duty materials, ingenious design and overall appearance make it a standout in it's category. I purchased it as a weekend getaway type bag. It may become my daily gym bag because I love it so much. The small size is deceiving at first--it holds a fair amount of stuff. That snap closure on the top is a great feature. I've carried a Nutsac MBD for a couple of years now and it just gets better with age. No doubt this duffle will do the same. I've had my eye on it since it was introduced and finally pulled the trigger recently. Just wish I'd done it sooner so I could have been enjoying the quality craftsmanship, durability and beauty.
09/11/2019
Anonymous
United States
Great Bag
I purchased these as a gift. They are amazingly nice. Guess I'll have to decide which ones I want and buy some for myself or out then on my Christmas list! :-)