Jones 13
$490
Leather
$490
A luxury bag made from Madone leather.
NutSac's first all-leather premium satchel!
For years we dreamed of making an all-leather, luxurious Satchel, and now we've made it a reality. The Jones 13 is the bag we always wanted, and we're sure you'll love it too. Whether it's for work, travel, or searching for the holy grail, this bag is up to the task!
Don't baby this bag, it is as tough and rugged as it is beautiful. 
Dimensions: 13" x 9.5" x 3"
Weight: 2.19lbs/ 0.99 kg
full-grain, Madone leather
Comes with leather, padded-strap

Antique brass hardware
lined with khaki canvas
30-day money-back guarantee
Lifetime guarantee
handsewn, american-made luxury
Brass Hardware
We've chosen to go with antique-brass hardware to match the personality of our leather. It's as rugged as it is beautiful!
Supple Madone leather
Our leather is made from U.S. hides. It's vegetable re-tanned, drum impregnated with oils, and finished with hot wax to enhance pull-up, healing, and patina characteristics. It is ever so slightly buffed.
Customer Reviews
Write a Review
Ask a Question
11/20/2020
Derek W.
United States
Jones 13 Nutsac!
This bag is very high quality! I bought the nutsac pro, and this Jones 13 bag is so much better in my opinion. Structurally the bad stands up alot better than the canvas bags do. If you are a fan of these type of bags, this is the cream of the crop compared to other name brand leather satchels on the market.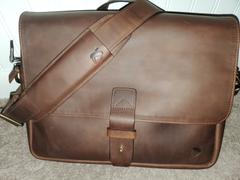 11/10/2020
Hassan D.
United States
Excellent bag
This was my first bag from Nutsac and I must say I am really impressed with quality and workmanship that went into making this beautiful piece. It is on the pricier end of the spectrum but it is well worth the money. The vintage look, the color, sturdiness, and everything about this bag is just great. Well done Nutsac on this all-American made piece of art.
11/07/2020
David N.
United States
Light and Roomy
I have had my Jones 13 for a week and used it extensively yesterday. It was light and comfortable to carry and it looked great. Has lots of room and is perfect these days to make sure you have extra items like face masks, sanitizer. It can easily hold my iPad Pro or laptop and it was great not to make your pants or jacket pockets bulge or protrude with various items. I think it is fantastic. Did I say it looks great! Recommended.
11/05/2020
Thurman W.
United States
Heck of a bag
I've owned a Nut Sac for a while. Super quality so when the full leather came out I bought it the first time I saw it. It's awesome. Very thick soft leather that will last a lifetime. Perfect size to carry all my EDC gear.