Product Details
Watch video below for additional details on this product
The Muy Grande is a messenger style bag designed for your laptop.
The interior of this bag features a panel of 3, 4" front pouches perfect for phone, wallet, hard drives, etc., in addition to a full-width back-zippered stash pocket and a padded laptop sleeve.
The bag is American-made from waxed-canvas and full grain leather, and as always, it is backed by a lifetime guarantee.
Dimensions: 16.5″x11″x4″
Weight: 3.44 lbs/ 1.56 kg
Full-grain leather
Waxed-canvas (water resistant)
Cotton strap w/ shoulder pad
Key loop
Internal laptop sleeve
30-day money back guarantee
Lifetime guarantee
Our leather
We source our leather from a small tannery in New England. Our leather distributor has been around since 1897, and gained notoriety for making leathers for artificial limbs for wounded civil war soldiers.
waxed-canvas
Man, we love waxed canvas! Historic, durable, beautiful, and cooler than cool. Waxed canvas is made from cotton impregnated with wax. It's served time in both military and civilian life.
Customer Reviews
Write a Review
Ask a Question
03/26/2020
Jack D.
United States
Great bag
The bag is a very heaven duty bag that is built to last. This is just what I was looking for because it has a small exterior but the bag is able to fit so much inside of it. The three pockets on the inside are great but with that there was a small pencil/pen holder that was built in so I don't keep losing my pens. The laptop pocket is very nice and you can feel secure putting your laptop in it. All of the had stitching and work that goes into it make it look and feel amazing. The hardware is built to last a lifetime and the bag does well in light rain too. Note. If you get the black color it will come more as a dark blue. Overall a great bag that is super fun to start a conversation with that will last you for a lifetime.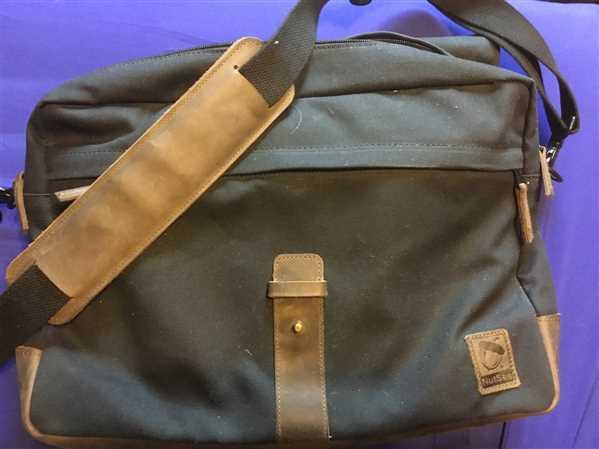 03/25/2020
Kelton D.
United States
Muy Grande es muy bueno.
Great item, well, made, good looking, holds a ton of stuff. But, a pack of Nutsac stickers? Seriously???
03/13/2020
Jyhhaur L.
United States
Best bag ever
Tough, ergonomic.... I got the smaller version for iPad, it was so good I went back and got the laptop version.
03/10/2020
Spencer A.
United States
Awesome
Absolute amazing bag use it everyday since delivered
02/25/2020
Robert B.
United States
Great Products
Durable quality products that are guaranteed for life. I was a little bit skeptical about the waterproof ability but I was carrying it in the rain and the water just beaded up and stayed beaded for several hours and never absorbed into the material.