Satchel 11
$139
(The bag formerly known as Satchel)
$139
The Satchel 11 features our iconic men's satchel design. This over the shoulder bag is perfect for your mobile lifestyle and everyday carry. It fits an iPad or any other standard sized tablet. 
The interior of this bag features two, 5" front pouches perfect for phone, wallet, hard drives, etc., in addition to a full-width back-zippered stash pocket. 
The Satchel fits an iPad, iPad Air, or other standard sized tablets.
Dimensions: 11″x7.5″x2.5″
Weight: 1.63 lbs/ 0.74 kg
Full-grain leather
Waxed-canvas (water resistant)
Metal hardware
Heavy duty cotton strap
30-day money back guarantee
Lifetime guarantee
Our leather
We source our leather from a small tannery in New England. Our leather distributor has been around since 1897, and gained notoriety for making leathers for artificial limbs for wounded civil war soldiers.
waxed-canvas
Man, we love waxed canvas! Historic, durable, beautiful, and cooler than cool. Waxed canvas is made from cotton impregnated with wax. It's served time in both military and civilian life.
Customer Reviews
11/13/2019
Peter M.
United States
Sac-tacular bag!!!!
I love this bag and would recommend it to anyone! I use it as my EDC bag for work. Trust me it is a great investment!!!
11/12/2019
Anonymous
United States
Not sure
So ordering was super easy and delivery was quick. And the customer service about thanking me for my order and when it would be delivered was wonderful and had a little bit of a personal touch. But I bought this as a gift for my husband so it is already wrapped and ready to go under our Christmas Tree so I won't have any other comments about the actual man bag until after December 25th.
11/12/2019
Jeffrey W.
United States
Awesome EDC Bag
The Satchel 11 is a great bag for carrying my daily EDC items. It is made tough so it handle hard daily use for a long time. Lastly it is USA made which is a plus .
11/06/2019
Kirk K.
United States
Luck of the Irish
I ordered my Nutsac just in time to use it on a vacation to Dublin and Galway. It turned out to be the ideal solution for keeping notebooks, passports, boarding passes, an iPad, iPhone, charger, cables, pens, sunglasses, AirPods and more – all close at hand and not crammed in my pockets. In the past, I found myself constantly rummaging through my jeans, jacket and shirt pockets every time I needed something. On this trip, everything was organized and easy to find in my Nutsac. I picked black to blend with my jacket and I wore the strap across my chest with the bag in back. Soon, I was unaware that I was carrying anything. Materials and craftsmanship are top notch.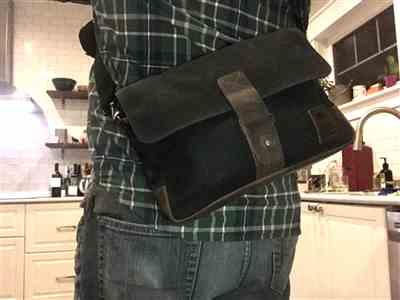 11/05/2019
Stevr
United States
My favorite ManBag
Love it!!! Great value!!!