TacSac 11
Sold out
**NOTE:
Due to disruptions in our supply chain, sales of this product will
resume in approx. 1 week
. We're very sorry for this inconvenience! Be sure to sign up to be notified when this product becomes available.**
$169
Choose your mod
Add additional functionality to your bag by selecting a "Mod". More mods coming in the near future!
Product Details
Watch video below for additional details on this product
A modular bag for customizable carry.
Our CMC (Convert. Modify. Carry.) system is a new modular carry experience from NutSac. CMC uses molle to allow you to uniquely configure your bag for a variety of purposes including concealed carry, medical needs (diabetic), travel, technology, etc.
We will be releasing more mods in the near future!
Dimensions: 11″x7.5″x3.25″
Weight: 1.14lbs/ 0.52 kg
Full-grain leather
Waxed-canvas (water-resistant)
Metal hardware
Strap with mesh pad
30-day money-back guarantee
Lifetime guarantee
TacSac 11 vs. Satchel 11
| Features | TacSac 11 | Satchel 11 |
| --- | --- | --- |
| Internal Molle Webbing | | |
| Shoulder Pad | | |
| Back Exterior Pocket | | |
| Dimensions | 11"x 7.5"x 3.25" | 11"x 7.5"x 2.5" |
| Four-Zipper System (for side access) | | |
Our leather
We source our leather from a small tannery in New England. Our leather distributor has been around since 1897, and gained notoriety for making leathers for artificial limbs for wounded civil war soldiers.
waxed-canvas
Man, we love waxed canvas! Historic, durable, beautiful, and cooler than cool. Waxed canvas is made from cotton impregnated with wax. It's served time in both military and civilian life.
Customer Reviews
Write a Review
Ask a Question
07/28/2020
Kok F.
Malaysia
The bag that you will appreciate more and more
Pros: 1) Very well made, it is stiff at the beginning util a bit hard to access the inside. But the material will be softened by time you use it. 2) It comes with magnet sewn in the flap. Previously Satchel 13 has this. It is so convenient and keep the flap closed all the time. I do not really tug the leather closure with the snap button. 3) Wider base and can store the right number of things I need, compared to 2" at the previous model. Not too big, not too small, just in the perfect size. 4) I used it as daily sling and is great as usual. And while go out for photo shooting, of course with small to medium size mirrorless camera, it works great. There is no padding at the bottom part, so, beware and it is recommended to diy some padding to protect your expensive camera gears, if you intend to make it as camera bag. 5) The back exterior pocket is wonderful! I slot my phone in this compartment and I feel safe with it. I do not worry about my phone is scratched by the items in the main compartment or being scratched by the zipper pull when put into or take out from the main compartment. Compared to internal zipper compartment, this is a great change for me. Cons: 1) Not really a con but only the way I intend to use it is different. Probably because of I am using the TacSac 11 and the height is shorter, I found that I am not using the side zipper pull as I imagine I will use it as much before. Material is stiff and most importantly height is shorter made me hard to reach the internal pocket from side with ease. Hopefully, I will change my opinion on this issue when the wax canvas is softened but I am doubt as the height will still be short. (Put it on TacSac 13 point of view, it a pros) What is in my TacSac 11: 1) Wallet 2) Phone 3) Maxpedition Micro Pocket Organizer 4) Wet wipes + Tissue paper 5) Hand sanitiser 6) Hand lotion 7) Foldable reusable bag 8) Pen 9) Leatherman Wave+ 10) Phone Stand 11) Fujifilm X70 12) iPad Mini 5 13) B5 Size Notebook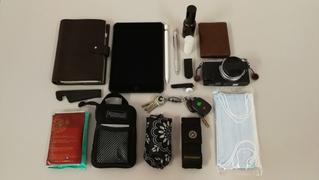 04/26/2020
elmer r.
United States
tacsac 11
i love this manbag very well made and it looks like it can withstand the test of times, i will be a nutsac fan for a long time. good job guys
04/26/2020
David
United States
Its best to be prepared
I always carry lots of stuff. Usually in my pockets. Not any more! I Love my Tac Sac 11! Not too big, not too small. Just Right!
04/25/2020
Anonymous
United States
Love my NutSac TacSac 11
I've never been one to carry around any kind of bag or satchel, but I received mine as a much needed gift from my girlfriend. I find my Tacsac is not only easy to carry, but also very accommodating for when I need quick access to my stuff. I love the oiled canvas & leather -quality materials! The Tacsac holds my gun, pocket knives, wallet, flashlight, portable phone charger, earbuds, small notebooks, & there's room for more! I'm glad the Tacsac has a lifetime warranty because I think it's already made itself a necessity for my daily success!