Caddy 4x6
Sold out
Leather
$79
This leather organizer is a multi-purpose, portable insert that keeps your essentials easily accessible. Store pens, knives, field notes, multi-tools, wrenches, etc. This product will fit in all of our bags and will fit in the back of your pants pocket when desired.
Note: Leather will be tight at first. Very tight. Fill it up, give it some time and things will loosen up. To speed up this process, use a hairdryer or heat gun (carefully) to soften the leather.
Dimensions: 4 3/8" x 6 1/4"
Comes with MOLLE attachments (on the back) that can be used in our TacSacs.
Customer Reviews
Write a Review
Ask a Question
01/16/2021
Stephen B.

United States
Cool Caddy!
I place my cool caddy in my NutSac SATCHEL 15 pocket. It fits perfect and I can easily access it when needed. I'm very pleased with my cool caddy!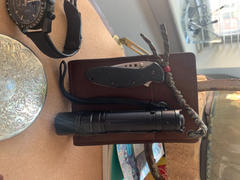 12/23/2020
Anonymous

United States
My great sac!
A great experience and a great product as always from Nut Sac
12/18/2020
Chris P.

United States
Caddy 4x6
Just like with their bags, this is a great piece of high quality kit and a great addition to the EDC line-up. Really sturdy and well-made, and I like the way it looks and feels, but man is that leather STIFF! This will obviously need some breaking in and loosening up, but I can barely get a normal pen or pencil in those front slots at this point.